Price

RM89.00

Product SKU
PM1012MAC
Brand
Supermama Lab
Availability
In Stock
Quantity
Description
Designed to help moms maximise their milk supply, meet our SuperLact Plus Milk Booster !
As Malaysia's premier milk booster supplement, SuperLact Plus is the first Malaysian milk booster to use a superblend of milk thistle and other natural galactagogues to elevate your milk production to the next level.
Each serving is rich in important nutrition for both you & your baby's health, including protein, calcium, vitamins and so much more!
Now available in Cocoa Hazelnut Oat & Matcha Dates Milk flavor.
Why Supermoms Choose SuperLact Plus Milk Booster
• Specifically Formulated for Breastfeeding Moms
• Boosts Breast Milk Supply Naturally with All-Natural Ingredients
• Packed with Essential Nutrients for Your Health & Your Baby's Growth
• Low Sugar, Vegan-Friendly & Lactose-Free
• Lab-Tested and Proudly Made in Halal-Certified Malaysian Factories
• No Added Sugar, Coloring or Preservatives
A Blend of Nature's Goodness
• Made with all natural ingredients, each serving brings you the best nature has to offer to guarantee yours & your baby's health for years to come.
Milk Thistle: Stimulates milk production & aids in liver repair
Fenugreek: Increases lactation & regulates blood sugar
Katuk Leaves: Promotes milk production, high in antioxidants
DHA: Crucial for baby's brain & vision development
Fibregum: Promotes gut health
Dates: Repair skin & boost energy
Nourishing Moms, Nurturing Babies
Our lactation milk is a powerful blend of plant-based proteins, essential vitamins, and vital minerals to help you provide the best start in life for your little one & restore your own health.
Protein: Heal & Repair body tissue
Calcium: Strengthen bones & promote dental growth
Iron: Aid in baby's brain development
Vitamin A: Improve eyes, digestion, skin & respiratory health
Vitamin B1, B2, B3, B6, B9, B12: Boosts energy & cell regeneration
Vitamin C: Improve mom & baby's natural immune system
How to Use: A Blend of Nature's Goodness
Each jar of SuperLact Plus Milk Booster contains 300g (10 servings; 1 serving = 3 scoops)
Measure 200mL of warm water using a Shaker Bottle or cup. Do not use hot water!
Add 3 - 4 scoops and shake thoroughly until fully dissolved. If using a normal cup, stir thoroughly with a spoon until no clumps are visible.
Pour into cup and drink; add ice for a refreshingly light drink!
Cocoa Hazelnut Oat Milk Ingredients:
Cocoa powder, Isolated soy protein, Oat milk powder, Black soya bean powder, Soy lecithin, DHA (Algae), Fibergum acacia gum, Dates, Stevia extract, Fenugreek extract, Katuk leaf extract, Milk thistle extract, Non-dairy creamer, Vitamin and mineral premix
Match Dates Milk Ingredients:
Isolated Soy Protein, Nakayama Japanese Matcha Powder, Black Soya Bean Powder, Soy Lecithin, DHA (Algae), Fibergum™ Acacia Gum, Dates, Stevia Extract, Fenugreek Extract, Katuk Leaf Extract, Milk Thistle Extract, Non-Dairy Creamer, Vitamin and Mineral Prem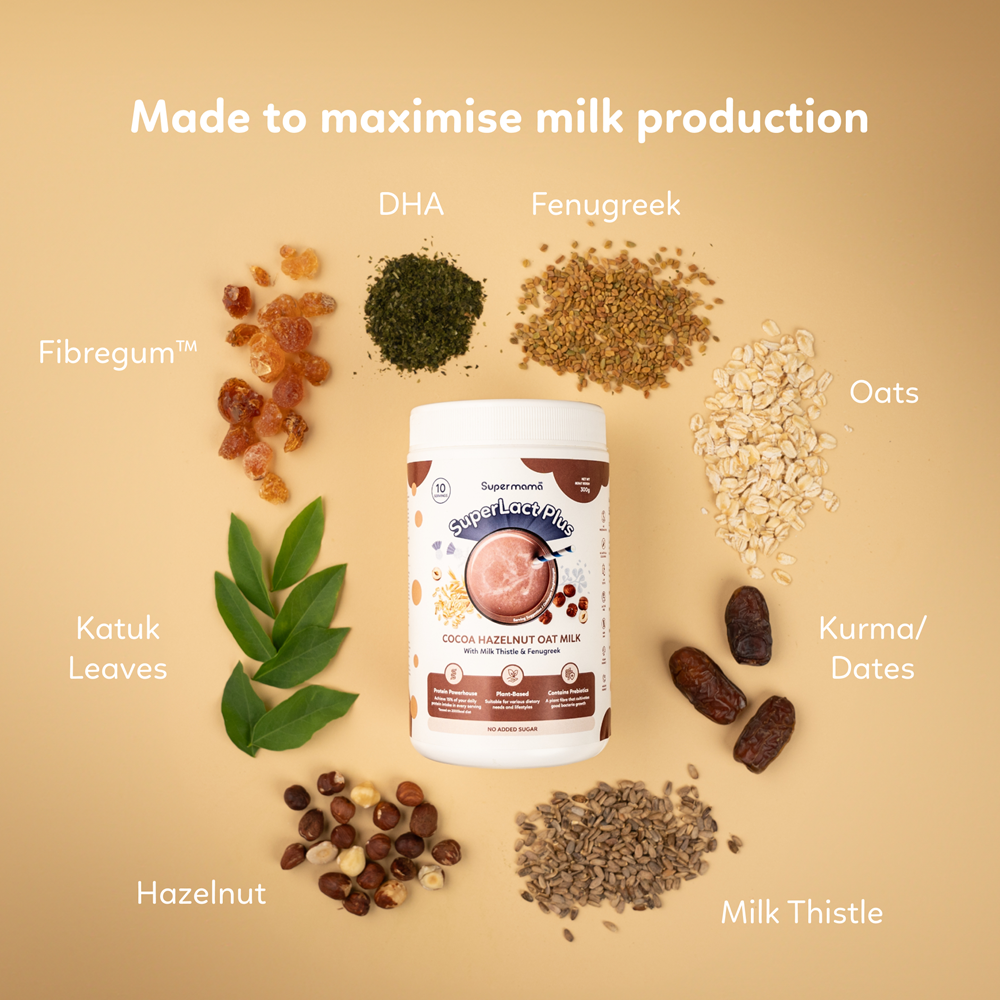 Reviews (0)
view all
back