Price

RM139.00

RM189.00

Product SKU
BAP1001
Brand
Babypian
Availability
In Stock
Colour
Quantity
Description
The First Zikir Pillow in Asia by BabyPian and the First Audio Pillow that Recognise by Malaysian Book of Records & Ministry of Home Affairs of Malaysia
We are happy to assist more than 413,793 parents out there to solve their daily challenge with child especially :
• To get sleep tight & well
• To educate & memorise of Zikr, Selawat & Quran
• No longer reliable on any gadgets.
• More than 90% of their child's problems are successfully resolved.
• Let's make Islamic Education as Your Child Lifestyle
Fungsi Surah
Dengan satu punat, hayati bacaan indah al-Quran daripada Qari Ustaz Fakhrul UNIC. Beliau turut diiktiraf oleh KDN Hal Ehwal Al Quran dan Hadith. Surah-surah yang dirakam juga dipilih mengikut kesesuaian khasnya buat anak-anak.
Fungsi Learning Dan Zikir
Perdengarkan zikir-zikir seperti SubhanALLAH dan Hasbi Rabbi di rumah. Biasakan juga anak-anak dengan laungan azan dan bacaan asas alif ba ta. Lengkap dengan muzik "white noise" yang dialunkan oleh Sufian Suhaimi.
Fungsi Doa
Hiaskan hari anakmu dengan doa-doa lazim. Fungsi ini lengkap dengan doa ibu bapa, doa iman dan doa dhuha. Dari Subuh sehingga Isyak, lapangkan dada si cilik dengan doa-doa yang baik.
Fungsi Sleeping Mode
Fungsi ini sememangnya memudahkan. Tekan saja butangnya, semua doa dan zikir akan dimainkan secara berterusan sehingga anak kita tidur dengan lena! Tak perlu lagi bergantung pada peranti digital.
Fungsi Lampu Tidur
Sinarkan ruang tidur anak-anak dengan lampu LED pada Zikir Pillow. Sesuai untuk memberikan suasana yang santai dan tidur yang sempurna kerana lampu ini tidak menyilaukan. Si cilik pasti akan memilih untuk tidur dengan bantal ini.
• Children have difficulty sleeping.
• Kids love to stick with gadgets.
• Children do not know how to recite dhikr and pray.
• To expose islamic education lifestyle at an early phase.
• To give extraordinary gift for newborn, toddler or for loved ones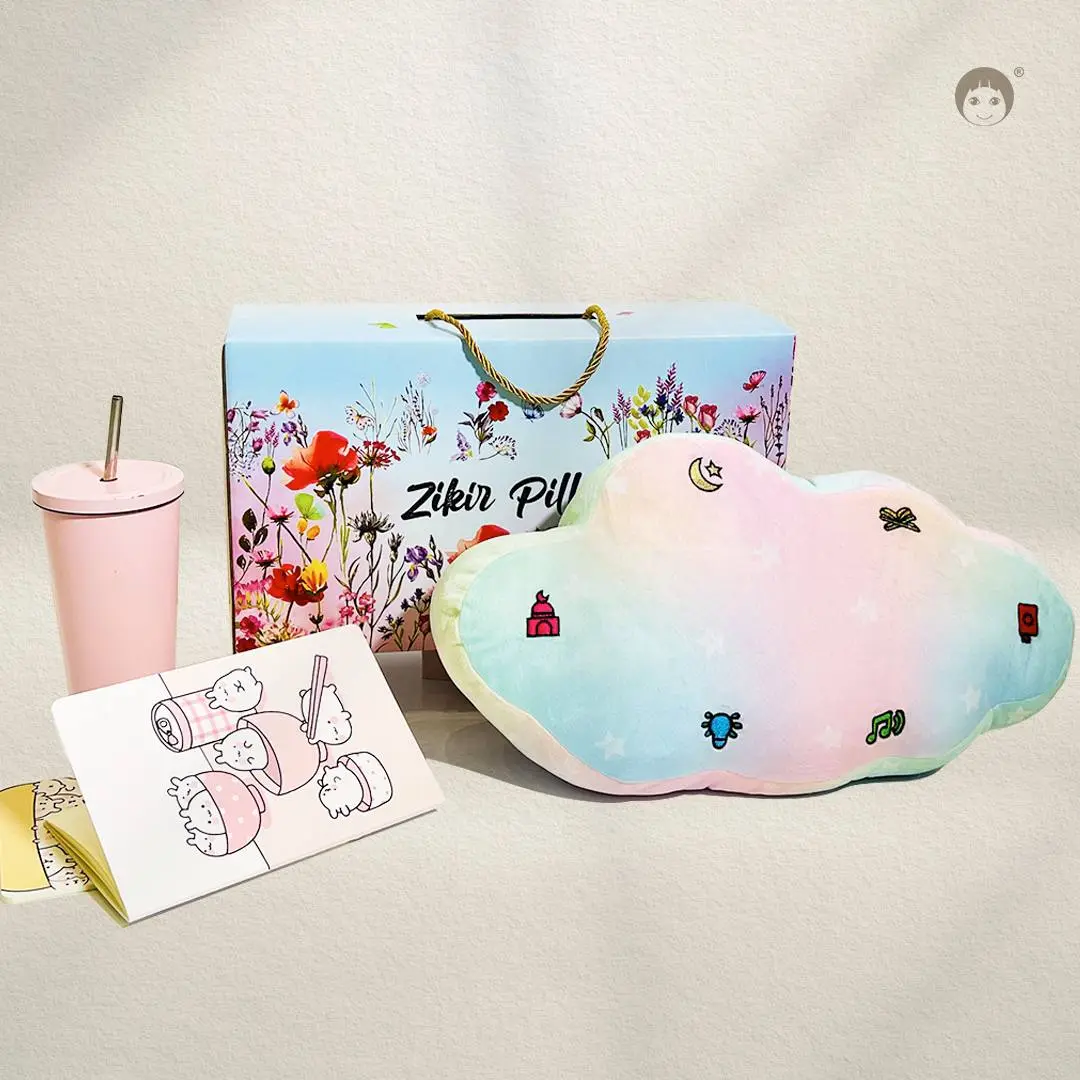 Reviews (0)
view all
back